Yacht Club Pool & Beach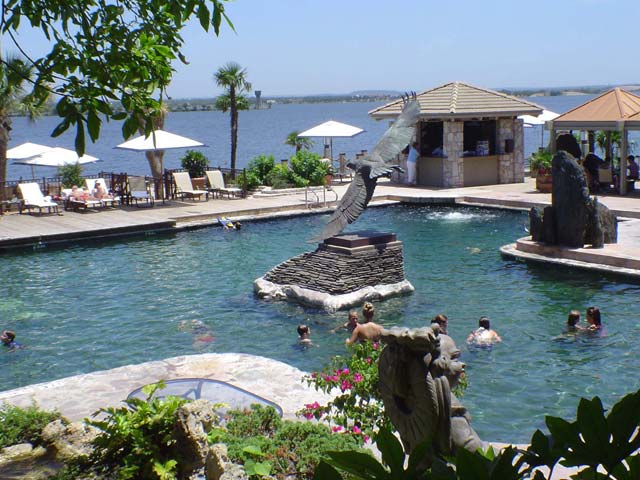 The Yacht Club features a one-of-a-kind outdoor, lagoon-style pool that is sure to take your breath away. Set against a white sand beach on the shores of Lake LBJ, the lagoon-style Yacht Club pool also features a 27-person volcanic-like whirlpool. Lounge on the deck in the shade of an umbrella or soak up the sunshine on the sandy beach. Kids can build sand castles or wade into Lake LBJ at the adjacent Turtle Beach. Enjoy refreshments from The Yacht Club Pool Serving tasty treats perfect for the poolside, the Yacht Club Pool also offers a full bar.
THE HORSESHOE BAY DINING YACHT!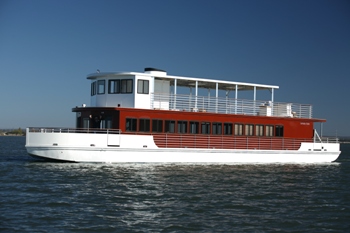 We are taking the phrase "dining on the water" literally with the debut of our 53-foot-long yacht this month. Setting sail this spring, the dining yacht will host your private Member functions and events as well as group functions, ranging from intimate cocktail parties to seated dinners. Adding to the multitude of dining and entertainment venues available at your Club, this unique vessel will exude sophistication from the bow to stern for a truly memorable experience.
The dining yacht features a 53-foot-long deck for open-air enjoyment, a climate-controlled dining room, an enclosed observation area on the upper deck, two full-service bars, a high-definition television monitor with laptop connections and a DVD player, a full stereo system connected to the PA system and classic honey maple wood interiors. Designed with the finest of Amish craftsmanship by Destination Yachts, Inc., the yacht can accommodate seated dinners and cocktail parties for up to 100 people.
Yacht Club information, details & pricing, contact Resort Event Planning at (830) 598-5512.