3 Reasons to Consider a Fixer Upper for Your Vacation Home
Posted by RE/MAX HORSESHOE BAY Resort Sales Co. on Monday, May 29, 2023 at 3:19:22 PM
By RE/MAX HORSESHOE BAY Resort Sales Co. / May 29, 2023
Comment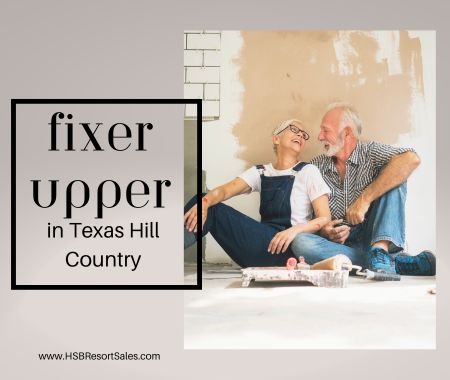 Are you looking for lake houses for sale on Lake LBJ or considering investing in a vacation home in the area? As you begin to look for your ideal property, you will be able to choose between something move in ready and a fixer upper.
Finding the right property in Texas Hill Country requires a team that knows the market well, and that's where we come in. Contact us any time to learn more about how we can help.
Wondering if a fixer upper is the right choice for you? Consider these 3 benefits of buying a fixer upper for your vacation home.
1. Save money
The most obvious reason people choose a fixer upper is to save money. This works in a few ways. Of course the purchase price on a fixer upper is almost certainly going to be lower than on a move in ready home that is either new or recently renovated.
There are other ways you can save money with a fixer upper, too. Some of these include:
Investing money over time as you choose to take on different projects, rather than spending it all upfront.
Saving on labor costs if you can update it yourself, rather than having those expenses rolled into the purchase price.
Finding the finishes you want at discounted rates by choosing to recycle or shop sales.
Whether your budget is conservative or generous, a fixer upper can be a great way to maximize your investment. This can be true if you choose to DIY a significant amount of the work or hire professionals for all of it. We always recommend getting a professional estimate before making any plans, so you understand what you are diving into.
2. Build equity faster
Another financial benefit of buying a fixer upper is the speed at which the property can build equity. In addition to the passive increase in value from typical market growth, your home's value can increase significantly as you make improvements.
When your home's value increases, your equity grows and creates additional financial opportunities for you. If you renovate the home and quickly build equity, you can leverage that equity to work toward other financial goals.
3. Make it exactly what you want
When you buy a fixer upper, you have the opportunity to make it exactly what you want. This includes everything from the major factors like the layout to minor details like interior design. You can take into account your budget, lifestyle, personal aesthetic preferences, and plans for the property to make it exactly what you want it to be.
If you purchase something move in ready, chances are you will not want to invest the time and money required to tear it apart and customize it for your preferences if you've already paid for an updated home. Owning a customized vacation home in Texas Hill Country is closer than you think if you renovate a fixer upper yourself.
Ready to begin searching for your fixer upper in Texas Hill Country? Contact us any time.