5 Things to Do in and Around Horseshoe Bay
Posted by RE/MAX HORSESHOE BAY Resort Sales Co. on Wednesday, September 7, 2022 at 1:24 PM
By RE/MAX HORSESHOE BAY Resort Sales Co. / September 7, 2022
Comment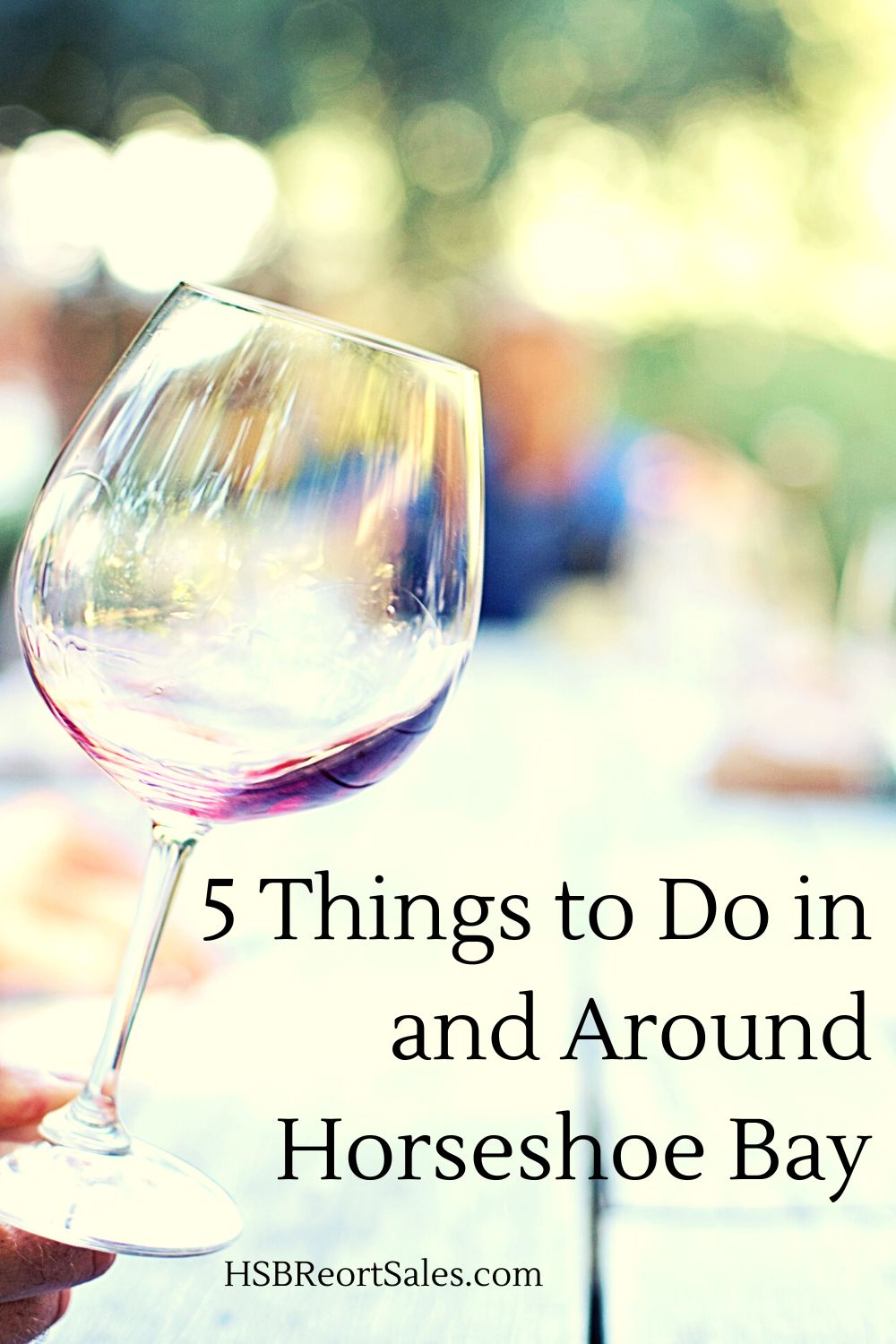 Whether you are living or vacationing in Horseshoe Bay, getting out on the water is one of the best ways to spend your time. With sparkling lakes all around, this is the perfect place to fish, swim, or take the boat out.
There are also plenty on things to do when you're out of the water in Horseshoe Bay, with shopping, restaurants, special events, and natural local attractions to visit. If you are looking for something to do in the area, check out our list of 5 things to do in Horseshoe Bay.
1. Go wine tasting
Horseshoe Bay and Texas Hill Country are known as some of the best wine country in the nation. Visit any of the plentiful local vineyards and wineries to enjoy wine tasting, a walk through the vineyards, or a tasting menu. Many of the local vineyards also feature special events and live music to make an even more memorable evening out of your wine tasting experience.
While there are many to choose from, some of our favorites include:
2. Explore Pedernales Falls State Park
Pedernales Falls State Park surrounds the turbulent, powerful, and beautiful Pedernales River. Visit for the day, stay in the park's camp sites, or hike to a more secluded and primitive site for camping. Visitors enjoy hiking, biking, horseback riding, white water rafting, and viewing the gorgeous waterfalls in the park.
Children who visit the park can become a Junior Ranger by picking up an explorer pack, keeping a Junior Ranger Journal, and earning their Junior Ranger Badge after completing the activities in the journal.
3. Swim in Hamilton Pool Nature Preserve
Located in Pedernales Falls State Park is Hamilton Pool Nature Preserve. Take a challenging hike up steep rock stairs to reach the beautiful swimming area. You will discover a secluded cave and waterfall at the swimming hole. This is best for strong swimmers who can pay attention to warning signs of flash flooding. With proper precautions, you will have a refreshing, exhilarating experience that is hard to match in any man-made pool.
4. Visit LBJ National State Park and Historic Site
President Lyndon B. Johnson, namesake of local Lake LBJ, is honored at LBJ National State Park and Historic Site. Visit to learn more about our 26th president through informative exhibits, including his authentic childhood home. Walk the trails that pass by bison, longhorn cattle, wildflowers, creeks, and historic cabins to take a step back in time. Fish in the river or swim in the pool during the summer months, getting a taste of life in this charming setting that helped shape one of the most influential minds in our nation's history.
5. Let Enchanted Rock State Park take your breath away
You will find stunning scenery, massive pink granite rock formations and abundant wildlife at Enchanted Rock State Park, in addition to over 11 miles of hiking trails. Park rangers host a junior ranger program to engage and inspire young visitors. This park is perfect for all types of outdoor adventure, displaying the diverse natural settings Texas has to offer.
Camping is also welcome in the park, so you can enjoy the gorgeous sunrises and sunsets with this breathtaking backdrop, not to mention the unparalleled stargazing campers enjoy. If you want to explore without spending the night, consider geocaching or hiking to the top of dome to take in one of the best views in Central Texas.
Want to find out more about living in Horseshoe Bay, or owning a vacation home here? We can help. Contact us any time to get started.