5 Tips for an Organized Move
Posted by RE/MAX HORSESHOE BAY Resort Sales Co. on Tuesday, May 9, 2023 at 3:57:21 PM
By RE/MAX HORSESHOE BAY Resort Sales Co. / May 9, 2023
Comment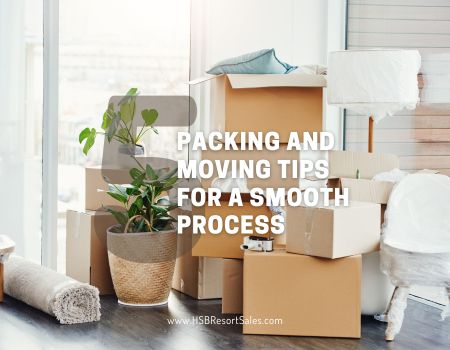 Moving is often considered to be a stressful process, with a long list of tasks to keep track of and plenty of potential hiccups along the way. While some things may be out of your control, these 5 tips can help you take charge of the moving process for the smoothest move possible.
Want to learn more about selling your house in Texas Hill Country, or finding homes for sale in Texas Hill Country? We can help. Contact us any time to learn more.
Whether you are looking to buy, sell, or both, these 5 moving tips can help.
1. Declutter before you pack
Decluttering is an essential part of moving efficiently, and it needs to be done before you begin packing. Waiting to dispose of, sell, or donate items until after you are unpacking in your new home means wasting time and money moving items you won't be keeping.
Instead, be honest with yourself as you pack up. Consider how frequently you have used an item, whether you will be excited to unpack it in the new house, and whether it has a place to fit in your new home.
If you are downsizing or moving into a home with fewer living spaces or bedrooms, consider getting rid of some furniture, linens, or other items that will not be needed in the smaller space. Measure your furniture before moving to make sure it will fit in the new home; if it doesn't, sell or donate it now to avoid extra work after moving in.
2. Color-coded boxes
When you begin to pack, set up a color-coding system for an organized moving day. For example, everything that you want to be in the office in the new bedroom should be packed in a box with an orange label. You can list the contents and write "office" on the box for more clarity. Then, on move-in day, hang an orange sign that says "office" on the door where you would like all of these boxes and items to be placed.
Whether you have hired professional movers, or are just working with the help of friends and family, this system will help avoid the annoying and unnecessary work of moving boxes around inside the house after the fact.
3. Pack essentials separately
The first few days in the new home are usually defined by unpacking, and it's common to not be able to find something at first. Because of this, it is best to pack all your essentials for 2-3 days separately so you know you can find them. This might include:
Clothing and toiletries for a few days
Bedding
Basic kitchen equipment, like some dishes and a coffee maker
Medication and first aid supplies
4. Avoid empty space in boxes
As you begin to fill boxes, they are bound to have empty spaces. To avoid wasted space, and to keep items more secure, fill the spaces with pillow cases, towels, throw blankets, and other soft items.
5. Schedule services ahead of time
Don't forget to schedule any utilities and other services to be ready at the new home before move-in. This might include more than just power and water; set aside an afternoon to set up all your services at the new address, including:
Trash
Water
Gas & Power
Internet
TV
Security
Housekeeping
Pest control
Ready to get started with the buying and selling process? Contact us any time.