7 Things You Don't Need in Your Bathroom
Posted by RE/MAX HORSESHOE BAY Resort Sales Co. on Wednesday, August 30, 2023 at 9:04:33 PM
By RE/MAX HORSESHOE BAY Resort Sales Co. / August 30, 2023
Comment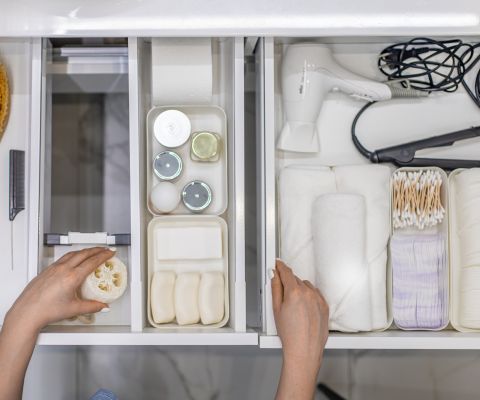 Clutter is the enemy of many homeowners, taking spaces that might otherwise be comfortable and functional and sucking the life out of them. Whether you are preparing to sell your home in Texas Hill Country and want to make it looks its best, you are preparing to move into a new home and don't want to bring your clutter with you, or you just want to enjoy your home more, we have some tips to help.
Search your bathroom for these 7 things that you don't need to hold onto anymore.
1. Expired medications
Many American homes have medicine cabinets filled with expired medications. This is both dangerous and a waste of space. Take a few minutes to go through all of your medications and properly dispose of anything that is expired or any prescription you are no longer using.
Make note of any over the counter medications you threw out so you can replace them and keep your medicine cabinet stocked.
2. Fads and gadgets
Do you find yourself holding on to gadgets and tools that were a fun buy, but you rarely use? Fads that are advertised to you or gizmos you once used but haven't looked at in months are taking up valuable bathroom storage real estate.
Here are some of the things you might be storing for no reason if you never use them:
Face steamers
Red light facial masks
Hair tools
Most people use the same short list of tools for beauty, cleaning, or personal care and still hold on to plenty of gadgets that merely collect dust. Just because you spent money on it or could imagine yourself using it in the future doesn't mean you have to keep it.
3. Old towels
Torn, stained, or damaged towels are hanging out in most homes, even if the homeowners can afford to and would like to replace them. Give yourself the gift of fresh towels whether you are moving in to a new home or not.
Feeling guilty about wasting towels that still have some life left in them? Upcycle them into cleaning rags, burp cloths, or rag rugs to give them a second life.
4. Broken and no longer functional items
Take a look around your bathroom and make note of any broken items, like a soap dispenser that isn't working anymore or a garbage can with a lid that sticks. Broken soap trays, shower curtain rods that fall, or anything else that just isn't functioning properly should be replaced. While the new item will likely take up the same physical space, this is still a way to declutter. Replacing no longer functional features of the bathroom takes away some of the mental load and frustration the items bring you every day.
5. Products you tried and don't use
If you are holding on to products you bought, tried, and then don't use, it may be time to get rid of them. Depending on the product, you may be able to give them to a friend or family member, but there's nothing wrong with letting something go. The same goes for nearly empty bottles that are taking up valuable space but never being used.
Remember, it's not any more wasteful to throw something out than it is to let it sit unused in your cabinet. The difference is the product in your cabinet is being wasted while taking up valuable space, too.
6. Sample bottles
If you have lots of sample bottles or hotel toiletries, ask yourself if you really use them. While some people find these products handy for travel or to have on hand for guests, many people just hold on to them and never use them.
7. Expired beauty products
Do you pay attention to the expiration dates on your beauty products? If not, take some time to check your products for freshness. Not all cosmetics will have an expiration date listed, so if yours do not just try to estimate the time you purchased it to decide if it's time to toss them.
Ready to find homes for sale in Texas Hill Country or learn more about selling your Texas Hill Country home? We are here to help, so contact us any time.