Common Mistakes Sellers Regret in Texas Hill Country
Posted by RE/MAX HORSESHOE BAY Resort Sales Co. on Wednesday, October 25, 2023 at 4:56:27 PM
By RE/MAX HORSESHOE BAY Resort Sales Co. / October 25, 2023
Comment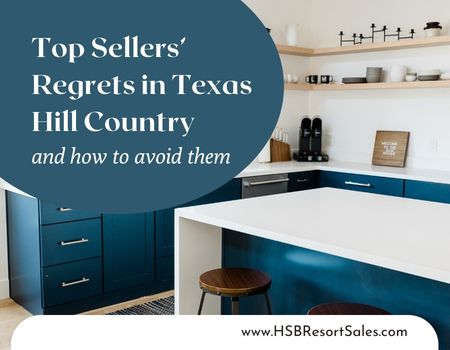 Even as the market shifts and interest rates increase, Texas Hill Country is still a sellers market. Homeowners are in a great position to successfully sell a house in Texas Hill Country, but the right strategy and team of professionals is essential.
For the latter, we are here to help. Contact us any time to learn more about the current market value of your home in Texas Hill Country, or to begin preparing your home for sale.
Before you set out to sell your home in Texas Hill Country, keep these common sellers' regrets in mind to prepare for a successful selling process.
1. Pricing it wrong
Pricing your home correctly is one of the most important factors in the selling process, and it's also one of the most difficult and nuanced. There are risks associated with pricing it either too high or too low.
A home that is priced too high will most likely either sit on the market for longer than necessary, causing some potential buyers to wonder if something is wrong with it, or not be able to sell because it can't appraise at the asking price. Pricing your home too low may lead buyers to assume it is not in great condition, or simple leave money on the table.
Finding that sweet spot and knowing the market value of your Texas Hill Country home for your negotiations can be a challenge. Our local expertise and updated market intel is essential to help you price your home right.
2. Ignoring the online curb appeal (aka "screen appeal")
One of the most important features of your home during the selling process is its screen appeal. This is true because nearly all of your potential buyers will make a decision about whether to schedule a showing based on how your home appears in its online listing.
In order to showcase the best features of your home in the online listing, you need a home that is declutter and well staged, and a good marketing strategy that includes an experienced real estate photographer. We can help you strategize a plan that will allow your home to put its best foot forward online.
3. Skimping on repairs
When you are preparing to sell your home, chances are the last thing you want to do is embark on a list of home improvement projects. The expense and effort involved in repairs and updates can be daunting.
However, many sellers end up regretting it when they skimp on these types of projects. The ROI on some simple repairs and updates is going to be worth your while much of the time.
We can help you decide where you should invest your time and money to prepare your home for sale. Our network of professionals in the area includes home inspectors we can recommend, who can give you an idea of the condition of your home before listing it, allowing you to anticipate any repairs that are needed or any red flags that should be addressed.
4. Selling without an agent
Particularly in a seller's market, some homeowners decide to try a FSBO (for sale by owner) transaction. While you may be able to save a little money, it's not guaranteed. Many sellers regret doing it themselves, even if they do save a couple thousand dollars.
Working with qualified real estate professionals offers a long list of benefits you may not want to go without:
A local network of other agents who just might have your ideal buyer
Up to date market knowledge to help you price, stage, and market your home well
Outsourcing the many tasks associated with selling your home to save you time and stress
Help with negotiating and navigating legal considerations in the process
Ready to sell your home? We have the team of professionals you need to successfully see the process through to the end. Contact us any time to get started.