Decorating Your Lake House in Texas Hill Country
Posted by RE/MAX HORSESHOE BAY Resort Sales Co. on Saturday, September 16, 2023 at 2:25:53 PM
By RE/MAX HORSESHOE BAY Resort Sales Co. / September 16, 2023
Comment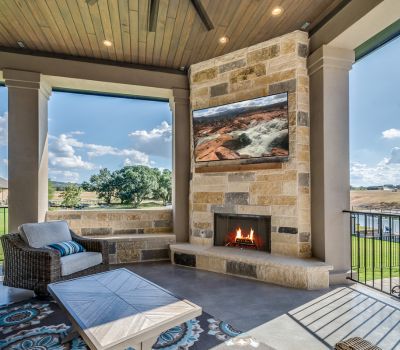 Living in a waterfront home on a serene lake in Texas Hill Country is a dream come true for many. With its rolling hills, clear lakes, and picturesque landscapes, the region provides the perfect backdrop for creating a tranquil and inviting haven. Decorating a waterfront home in Texas Hill Country allows you to blend the natural beauty of the surroundings with your personal style.
If you are searching for waterfront homes for sale on Horseshoe Bay or another part of Texas Hill Country, contact us any time, and keep reading as we explore tips and ideas for decorating your waterfront retreat to make the most of this idyllic setting.
Embrace and Showcase the Scenic Views
One of the most significant advantages of waterfront living is the stunning views. Maximize this feature by ensuring your interior decor allows for unobstructed sightlines. Consider large windows, sliding glass doors, and open floor plans that invite the outside in. Use neutral color palettes to create a soothing backdrop that complements, rather than competes with, the natural beauty outside.
Natural Materials, Colors, and Textures
Incorporate natural materials and textures that reflect the environment. Wood, stone, and natural fabrics like linen and cotton can bring an earthy, organic feel to your home. For example, hardwood floors and stone countertops can evoke the rustic charm of the Hill Country. This is a subtle way to create a seamless blend from inside to outside.
Draw inspiration from the natural surroundings when selecting your color palette. Earthy tones such as blues, greens, browns, and grays can evoke a sense of calm and tranquility. These colors reflect the water, trees, and hills that characterize the Texas Hill Country.
Let the Lake Be Thematic
Given the lakeside location, nautical and outdoorsy elements can add character to your decor. Consider incorporating items like driftwood, rope, and boat or fishing related decor as subtle nods to the waterfront theme.
Adorn your walls with artwork that celebrates the beauty of the water and the surrounding landscape. Paintings, photographs, or sculptures of lakes, rivers, and the Texas Hill Country can be excellent additions to your decor, and even better if they are photographed or painted by local artists.
A rustic chic style can blend seamlessly with the Hill Country's natural beauty. Think exposed wooden beams, stone fireplaces, and vintage-inspired furniture. This style exudes warmth and comfort, creating a cozy atmosphere for your waterfront home.
Outdoor Living Spaces
Create inviting outdoor living spaces that seamlessly extend from your interior. Consider a spacious deck or patio with comfortable outdoor furniture, perfect for enjoying the fresh air and serene waterfront views. Don't forget to add elements like outdoor rugs, throw pillows, and potted plants to make the space feel cozy and inviting.
Residents of Texas Hill Country enjoy a relatively mild climate. For most of the year, you can enjoy your outdoor living space with some minor accommodations like cozy blankets, a fire pit, or even a space heater.
Designate a cozy lakeside retreat on your property. This could be a gazebo, dock, or boathouse where you can relax, read, or entertain guests. Furnish this space with comfortable seating and accent pieces that enhance the overall atmosphere.
Incorporate Waterfront Dining
Incorporate a waterfront dining area where you can enjoy meals while taking in the views. Opt for a large dining table with comfortable chairs, and consider installing a chandelier or pendant lights to create an intimate and inviting ambiance.
Depending on your unique floor plan, this may make more sense as an indoor or outdoor feature. Look for the place in your home that can allow you to best enjoy your views of the water from your dining table.
Waterfront Bedrooms, Offices, and Guest Spaces
Consider from which rooms in the home you would like to enjoy the best views. You may decide the primary bedroom should feature the waterfront from the window or a private patio. Create a serene and cozy bedroom that complements the waterfront setting. Choose comfortable bedding, incorporate soft, soothing colors, and opt for blackout curtains to control natural light. A large window or sliding glass door leading to a private balcony can be a romantic touch.
If you work from home, you might decide to create a home office with a view. Position your desk near a window or glass door that overlooks the water. A well-designed workspace can boost productivity while allowing you to enjoy the beauty of your surroundings.
To learn more about finding your ideal waterfront property in Texas Hill Country, contact us any time.