How to Add a She Shed to Your Lake House
Posted by RE/MAX HORSESHOE BAY Resort Sales Co. on Thursday, September 22, 2022 at 5:56 PM
By RE/MAX HORSESHOE BAY Resort Sales Co. / September 22, 2022
Comment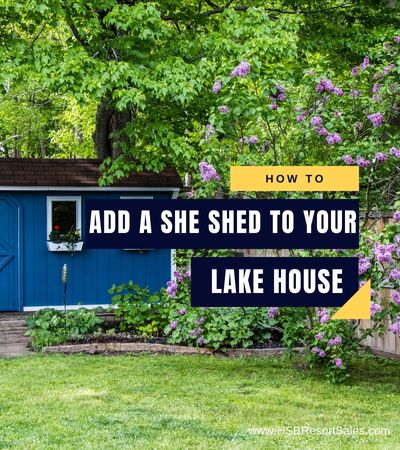 She Sheds became all the rage a few years ago, and while the trend may not be popping up on every social media site at the same frequency today, it is still one of the best ways to add space to your home without the expense and lengthy process of a home addition.
Adding a She Shed to your lake house can provide the perfect space to create something that's been missing. Maybe it's a home office so you can spend more time with your family at the lake, or maybe you're looking for a dedicate craft or hobby space that keeps your projects away from kids and grandkids on vacation.
Whatever your plans are for the shed, we have a few tips to help you make your dreams come to life at your lake house.
Lay a Foundation
While a She Shed is much less complicated installation than a home addition, often being constructed based around a pre-fabricated shed that simply needs to be finished inside, there are a few steps you should take to make sure it lasts.
Pouring a concrete foundation is essential in order to have a shed that does not end up damaging your property, falling apart, or looking pretty shabby after a few years. A large portion of the She Shed project is something many people can DIY, but you may want to hire a professional to pour a foundation for the shed.
While you're at it, consider having them pour a slightly larger concrete pad to make a porch or patio for the entrance of the shed, or even a walkway to it from the main house.
Match the Exterior Design
One of the best ways to ensure that your She Shed looks high end and high quality is to marry the exterior design scheme of your lake house with the look you give your shed. Choose either the same exterior materials and colors, or something that will closely complement.
Most She Sheds are located in the back yard, often part of the space that is used for entertaining or accessing the lake. Make sure the design of the shed's exterior flows well with the patio furniture and landscape design of the yard.
Choose a Theme
A She Shed is the perfect place to go all out with a fun theme. Because the space is physically disconnected from the rest of the house, you don't need to be as concerned about how the interior design flows with your current decor.
Choose a theme you love, but may be too bold for other rooms in the house. A She Shed is the perfect place to add a statement wallpaper, funky flooring, or an eye-catching chandelier.
Decide if the Shed Needs Power & Water
Depending on how you plan to use your She Shed, you may want to run power and/or water to it. In most cases, this will require hiring a professional. Most sheds don't need water, but you may want a small sink or kitchenette area depending on how you plan to use the space.
For example, if it is going to be a painting studio, you may want to have a sink for washing brushes. If it will be your home office, a small kitchen space may be a great convenience.
Most people find that having power run to the shed is important to them. In addition to lighting, you will want to have power for charging devices, running a mini fridge, or plugging in a fan or window A/C unit during the hot Texas summers.
Allow the Light In
Don't forget to allow generous natural light into the She Shed. Adding plenty of windows is a great way to do this, even choose a glass door if possible. You may also want to install a skylight or solar tube to maximize the natural light.
This is an essential step to keep the space feeling comfy rather than crowded. If the shed is too dark or requires lamps all day long, you may end up finding that you don't enjoy spending much time in it.
To learn more about finding your dream lake house, contact us any time!