How to Keep Your House Ready for a Showing
Posted by RE/MAX HORSESHOE BAY Resort Sales Co. on Tuesday, October 10, 2023 at 11:36:31 PM
By RE/MAX HORSESHOE BAY Resort Sales Co. / October 10, 2023
Comment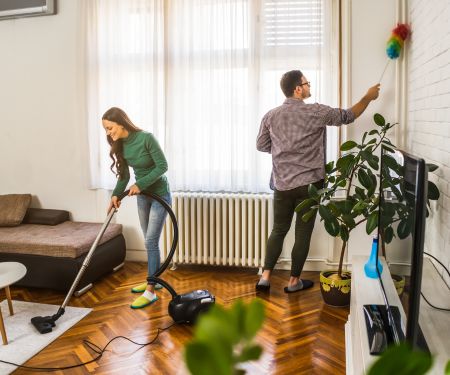 Keeping your house clean and well-maintained is essential when trying to sell it. A clean home not only makes a positive first impression on potential buyers but also allows them to visualize themselves living in the space.
However, if you are like most people, you are busy and don't usually have a showing-ready house at all times. To help you prepare your home for sale, we have some valuable tips for keeping your house clean throughout the selling process. Don't forget you can contact us any time to learn more about selling your house in Texas Hill Country.
Declutter First
Before you start trying to keep everything tidy, spend some time significantly decreasing the amount of stuff you need to manage. This will give you a head start for packing, and make your job far simpler. Remove excess items, personal belongings, and unnecessary furniture. The less clutter you have, the easier it is to keep your home clean.
Hire a Professional
There are a few ways you might benefit from hiring a professional house cleaner before selling your home. First, you can pay for one major deep cleaning service before you house goes on the market. This way, you just have to keep up with the work that was done. Another option is to temporarily have your cleaners come weekly until your house sells. This should keep everything in good order so that all you have to do is a quick tidy, wipe down, and vacuum before a showing. This way, you can be ready at a moment's notice.
Prioritize High-Traffic Areas
Focus your cleaning efforts on high-traffic areas like the living room, kitchen, and bathrooms. These spaces should be immaculate when potential buyers visit.
If you are having trouble keeping it this way, prepare a quick clean up kit. Put some trash bags in a laundry basket, and then you can quickly sweep through the high traffic areas, throwing trash into the bag and miscellaneous belongings into the laundry basket. Take both of these things with you when you leave home before the showing, leaving behind a perfectly tidy house.
Create a Daily Cleaning Schedule
Incorporate daily cleaning habits into your routine. Make beds, wash dishes, and wipe down kitchen counters. These small tasks can make a significant difference in the overall appearance of your home.
If you tackle your daily chore list each morning, you can easily get the home ready to show at any time by simply gathering up anything that is out.
Pay Attention to Odors
Strong smells, even those you think are pleasant, can be a major deterrent to potential buyers. While your home is on the market, stay away from cooking foods with strong aromas, burning scented candles, or using strongly scented air fresheners.
You should also be aware of any sources of objectively unpleasant odors that you may not notice if they are familiar. These might come from pet odors, diaper pails, or a compost bin. Do your best to have a pleasant, neutral smell in the home.
Last Minute Checklist
If you find out about a showing with only a short time to pull the house together, this is a simple checklist that can help:
Clear surfaces
Make beds
Take out trash
Vacuum or sweep
Put away all personal items
Open window coverings
Wipe down and flush all toilets
Clear sink of dishes
While you don't have to keep your home immaculate at all times, it will help your selling process to have a home that is always a few minutes away from being ready to be seen. To learn more about how to successfully sell your home in Texas Hill Country, contact us any time.