How to Upgrade Your Home for Aging in Place
Posted by RE/MAX HORSESHOE BAY Resort Sales Co. on Tuesday, March 28, 2023 at 10:48:09 PM
By RE/MAX HORSESHOE BAY Resort Sales Co. / March 28, 2023
Comment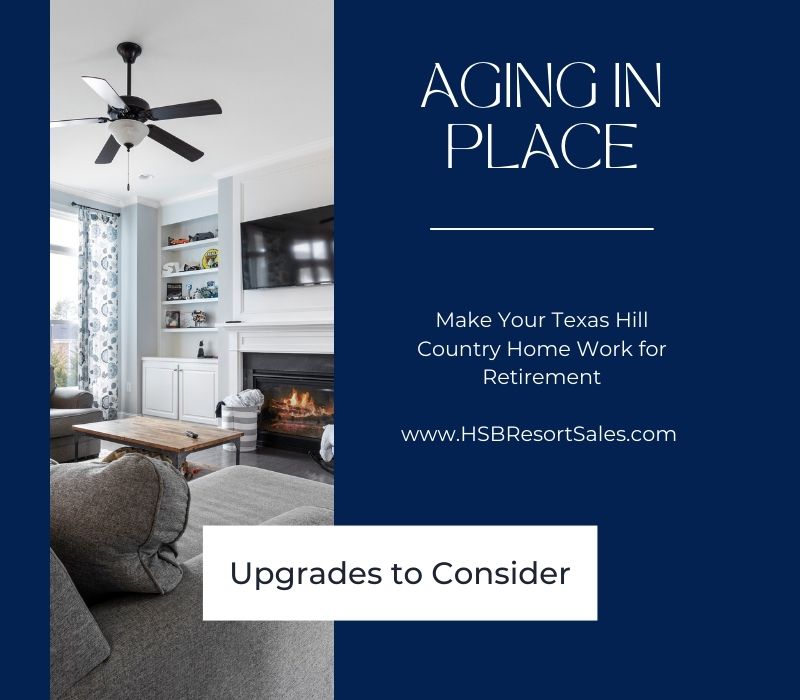 Aging in place is a goal for many people as they look ahead to retirement. As you look for homes for sale in Texas Hill Country, finding a home that is ready to accommodate limited mobility and other challenges associated with aging might be a smart priority for you.
We can help you find real estate in Texas Hill Country that is perfect for retiring, allowing you to enjoy your ideal retirement lifestyle now while preparing for changes in the future. Contact us any time to learn more.
If you are looking for upgrades that will allow you to comfortably age in place, consider these.
What is aging in place?
If you're not familiar with the term, aging in place is the concept of continuing to live in your home as you develop health issues, limited mobility, and other challenges associated with aging. When your home is designed to accommodate aging in place, you won't have to move into an assisted living facility as soon, or you may be able to avoid a move to find a single story or wheelchari accessible home.
For many people, aging in place is the goal. The key is to have a home that is prepared to make these plans successful long before you need any accommodation.
Not sure what features a home should have to make aging in place a reality? Add these to the list.
Safe and Accessible Bathrooms
The bathrooms in a home are one of the most common problem areas for those hoping to age in place. Slip risks and crowded layouts can make it impossible to function as an elderly person in some bathrooms.
At least one bathroom in the home should meet the following criteria:
Located on the first story
Wide enough doorways to accommodate a wheelchair or walker
Walk-in tub or shower
Grab bars in the shower and tub area
Vanity with seating
Interior Modifications
Some of the other things to address on the inside of the home include:
Having at least one full bedroom and bathroom on the main level of the home in case stairs become an issue
Wide enough hallways for a wheelchair or walker
Space for a home health worker to stay overnight, if needed
Installing extra lighting for stairways, hallways, and any dimly lit areas
Kitchens with plenty of storage that does not require a step stool or bending down
Modifying step-down living rooms to be flush with the rest of the home
Exterior Modifications
Accessibility is key for aging in place, so making sure you can safely enter and exit the home with a wheelchair, walker, or other mobility challenges is essential. Ramps should be installed where possible, and anywhere there is more than one step to get into or out of the house should be addressed.
Also keep in mind that walkways outside are often designed to be beautiful and functional for the average person, but will not work for a wheelchair or walker. For example, stepping stones or any path that has varying heights can be treacherous for an elderly person.
Interested in learning more about houses for sale in Texas Hill Country that are right for retirement? We can help. Contact us any time.