Preparing for a New Construction Walkthrough
Posted by RE/MAX HORSESHOE BAY Resort Sales Co. on Thursday, August 25, 2022 at 4:26 PM
By RE/MAX HORSESHOE BAY Resort Sales Co. / August 25, 2022
Comment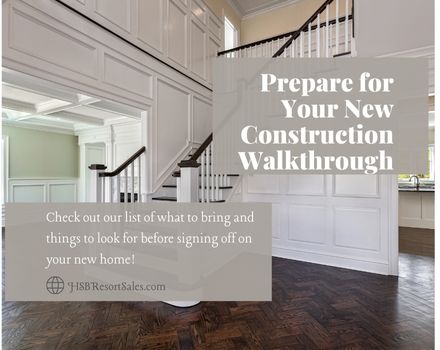 You may expect your new construction home to be perfect, and it should be nearly so! But it is also quite normal to have a few things that need some extra attention after construction is completed. Most builders offer a new construction walkthrough after they have completed their work, where you can review everything and make note of any problems you see before signing off on the home.
If your new construction walk through is coming up, make note of some of our tips about what to bring and things to look for. And as always, if you have any questions about the home buying process, contact us any time to find out how we can help.
Blue Tape
You may also hear a new construction walkthrough called a "blue tape walkthrough" because it often involves leaving a small piece of blue painters tape to mark anything that requires attention. You builder may supply something like this, but it doesn't hurt to bring your own blue tape to be sure everything you notice makes it on the list.
Leaving the visual indicator of that chipped paint, loose hardware, or whatever else you noticed will help the builder be sure not to miss it. Brightly colored sticky notes are another option, but we recommend tape because it is most likely to stay put until the builder gets to the repair.
Something to Plug In
In a new construction home, it is common for an outlet or two to not be connected. This is an easy fix, but it is something you want to catch before closing on the home if possible. Bring a small electronic device that you can plug into every outlet to test whether it is working.
A travel hairdryer or phone charger is an easy option, but really anything that is easy to carry with you will do.
Notebook or Note on Phone or Tablet
As you place blue tape on anything that needs attention, make note of it in your own records. A clipboard with pen an paper, notebook, or a document on your phone or tablet will be fine. Pictures to document will also be helpful.
Make a simple list of everything you expect to be fixed before the next walkthrough. It is difficult to remember everything you noticed, and the builder will likely schedule a follow up walkthrough where you will inspect their work. Having a list to work from will save you time and headache.
Documents Relevant to Your Design
Bring a copy with you of the documents that show every design choice you made. This includes the floor plan you chose and any changes you made to it, upgrades you paid for, and all paint colors, flooring, and finishes.
If anything doesn't look the way you expected, the fastest way to determine whether it was done correctly is to refer to the design contracts and any other documents you have.
Exterior Things to Look For
As you walk around the exterior of the home, look for these things:
Level driveway, sidewalk, and garage flooring with no cracking in the concrete. If you paid for a special coating, stamped concrete, epoxy garage, or any other finish, make sure it looks right.
Gutters should drain properly, away from the house, and should be cleaned before move in
Check that all hardscaping is in good condition and functioning, including turning on any lights, fire pits, outdoor kitchen elements or other electronic or gas features
Turn on irrigation to see that sprinklers are functioning
Check the roof for proper sealing on all corners and edges, and look for even, level tiles (using binoculars if needed)
Look over the exterior paint, checking for a thorough job with no bubbling or cracking
Open and close every door to make sure it is a smooth open and close with a good seal
Check the doorbell to see that it works
Check any deck or balcony rails to see that they are secure
Interior Things to Look For
Inside the house, check for:
Flooring with any cracks, squeaks, or missing grout should be discussed with the builder
If the home has stairs, be sure there are no tripping hazards and flooring was properly installed
Proper paint colors on walls, trim, and ceiling
Any chips in the paint or scuff marks, which should be fixed before move in
Check that all light switches, faucets, and electrical outlets work
Turn on any appliances to be sure they are installed properly
Ensure all breaker box switches are labeled
One of the best things you can do for your own peace of mind during the new construction process is work with an experienced agent. We would love to help!