Reasons to Choose Texas Hill Country for Your Snowbird Plans
Posted by RE/MAX HORSESHOE BAY Resort Sales Co. on Saturday, September 23, 2023 at 2:16:12 PM
By RE/MAX HORSESHOE BAY Resort Sales Co. / September 23, 2023
Comment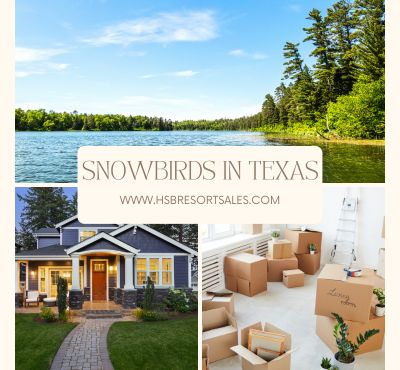 As you near retirement age, you may begin to understand why being a "snowbird" is such a popular strategy, especially if you live in a climate with long or harsh winters. Even if you've spent years in that very climate, entering your golden years with the prospect of continuing to drive on icy roads, shovel snow, and navigate slippery walks may become less and less appealing.
Choosing the right place to retire is a multi-faceted choice, and choosing to move to an entirely new location is even more complex. Sometimes choosing to purchase a second home and split your time between the two is the ideal solution. If you're looking for the right second home location, consider Texas Hill Country.
Contact us any time to learn more about homes for sale in the area, and keep reading to learn more about why it has become such a popular retirement choice.
Texas Hill Country Climate
When you think of being a snowbird, you likely think of coastal locations like Florida, South Carolina, or Southern California, or perhaps you think of warm climates like Arizona or Southern Utah. However, Texas Hill Country boasts a relatively mild climate, with warm summers and mild winters. While it can get hot during the summer months, the region generally experiences less extreme weather compared to other parts of Texas. This makes it appealing for those looking to escape harsh winters.
If you spend your winters in your Texas Hill Country home, you can anticipate still wearing your cozy sweater or enjoying your hot coffee, but you won't have the blizzards and intense storms other parts of the country experience. It provides a milder version of 4 seasons, rather than getting rid of the seasons altogether.
Scenic Beauty
The natural beauty of Texas Hill Country is a significant draw. Rolling hills, vineyards, clear rivers, and abundant greenery create a picturesque landscape that provides a serene and visually pleasing environment for residents.
This provides the perfect setting for your dream retirement lifestyle, whether that means owning waterfront property, golfing, hiking, fishing, or just enjoying the fresh air all year long. The many parks, lakes, caverns, and natural areas make it an excellent destination for those who love the great outdoors.
Affordability
In comparison to many other markets in the country, Texas offers an affordable price point that may allow you to stretch your retirement income to buy the home you are dreaming of.
You may even find that waterfront properties, hill country ranches, and homes in beautiful master planned communities fit within your budget.
Additionally, Texas is known for having no state income tax, which can be particularly appealing to retirees looking to stretch their retirement income. Talk to your tax professional about whether this might be an advantageous transition for you.
Diverse Choices
Texas Hill Country has something for everyone. It is a friendly area with Southern hospitality that lives up to its reputation, and a variety of neighborhoods and housing styles to fit your preferences. Whether you prefer a cozy cottage, a cabin on the lake, a ranch-style home, or a modern condo, Texas Hill Country offers a wide range of housing options to suit different tastes and budgets.
Plenty to Do
Living in Texas Hill Country means there is always something to do. In addition to all of the outdoor recreation you can enjoy at the lakes, rivers, and state parks in the area, the region hosts a variety of festivals and events throughout the year, celebrating everything from music and art to local cuisine and heritage. These events offer opportunities for socializing and engagement with the community.
Texas Hill Country also has a thriving wine industry, with numerous vineyards and wineries producing award-winning wines. Wine enthusiasts can enjoy tours and tastings in this beautiful setting.
Wherever you live in Texas Hill Country, you will be within reasonable driving distance of major cities like San Antonio and Austin. This makes it easy to be a snowbird, traveling back and forth from nearby airports. It also makes access to major urban amenities and healthcare facilities convenient.
As you decide how you want your retirement years to look, take some time to explore the beautiful homes for sale in Texas Hill Country, and contact us any time to learn more.