Rustic Interior Design that Suits Any Season
Posted by RE/MAX HORSESHOE BAY Resort Sales Co. on Thursday, October 6, 2022 at 3:47 PM
By RE/MAX HORSESHOE BAY Resort Sales Co. / October 6, 2022
Comment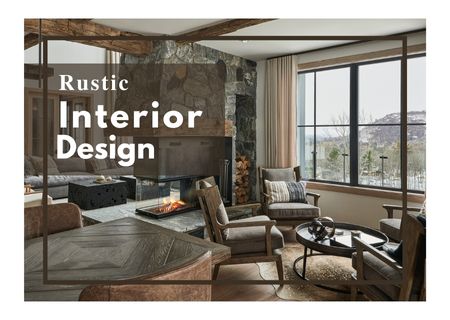 A Texas Hill Country home is the perfect canvas for a cozy, rustic interior aesthetic. Here are some ideas that will make your rustic interior design work for any season. Rustic interior design beautifully blends feminine and masculine elements, achieving a comfortable, yet elegant look that can work for any Texas lake house.
Check out these 4 tips to achieve that perfect rustic look. You can always add seasonal touches to make updates throughout the year, but a classic, the rustic foundation can be something you love all year round.
1. Avoid being too matchy-matchy
Contrast is key in rustic design, so avoid choosing too many things that match perfectly. Instead of a furniture set, look for individual pieces that complement each other. Imagine a cabin where the furniture has been slowly collected over the years; this is the look that gives that comfortable, cozy aesthetic you're after.
For example, when you design your living room, don't look for a matching sofa and armchairs. Instead, start with a piece you love and find contrasting elements to pair with it. Maybe a cognac leather couch has caught your eye. Find some chairs with different shapes in a textured canvas or printed upholstery. Choose lots of contrasting textures and look for unique treasures to add visual interest.
2. Focus on earthy colors
Rustic interior design works best with earthy colors. Look for sage greens, cloudy blues, natural wood, charcoal and stone grays, and rusty reds. If you wouldn't find it on a hike or in a natural landscape, save it for another design.
3. Bring the outdoors inside with textural design elements
Texture is often the best way to incorporate interest into rustic interior design. Draw inspiration from the natural textures in the outdoor environment; wood, stone, fur, straw, and touches of greenery are all subtle ways to bring the outside in with your design.
Solid wood furniture is both a smart investment and a beautiful design statement, perfectly suited for rustic design. A stone fireplace or accent wall is another great way to incorporate this same idea.
For a more affordable, subtle textural element, look at throw pillows, rugs, and other textiles that can showcase natural textures like fur or woven natural materials. If you have a mantle or other shelf to decorate, look for ways to bring the natural beauty of Texas Hill Country inside. A vase of local flowers or greenery or a framed photo of your favorite hiking trail can be a beautiful touch.
4. Choose art that highlights nature
As you select art to hang in the home, focus on ways to highlight nature to continue bringing the rustic design to life. Paintings and photographs of your favorite outdoor places are a perfect place to start. Even abstract art can evoke feelings of nature, with subtle nods to flora and fauna.
Look for creative canvases and mediums for your artwork, too, like a painting on a log or a tapestry woven from natural materials. Don't be afraid to try something new or even consider purchasing a series from an artist that can be swapped each season, like a photo of the same tree at four different points throughout the year.
Still looking for the ideal property in Texas Hill Country? We would love to help, so contact us any time to get started.