Should You Buy a House or a Condo?
Posted by RE/MAX HORSESHOE BAY Resort Sales Co. on Friday, September 30, 2022 at 3:33 PM
By RE/MAX HORSESHOE BAY Resort Sales Co. / September 30, 2022
Comment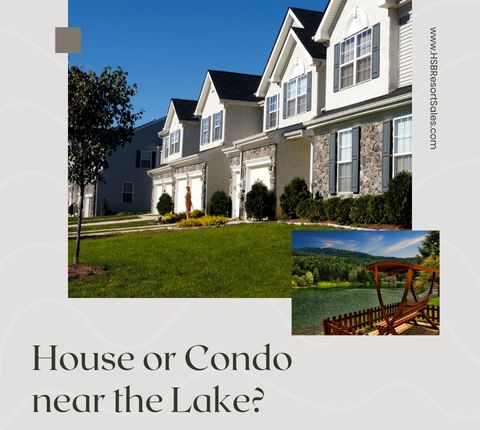 There are many reasons people choose to buy a home in Texas Hill Country. Maybe it is your dream location for retirement, or perhaps this is the ideal place to buy that family lake house you've always wanted for vacations. You may also find that moving to the area is the perfect place to settle down, even if you aren't in search of a retirement or vacation home.
Whatever the case may be, as you begin the search for you ideal property you will have to decide between a house and a condo. If you, like many people, are dreaming of a property on or near one of the beautiful lakes in the area, we have some things for you to consider as you decide which type of home will be the ideal fit for you.
Keep reading for some questions to ask yourself, and contact us any time to find out more! We would love to help you find your dream property near Horseshoe Bay, Lake LBJ, or anywhere else in Texas Hill Country.
How much space do we need?
While not a hard and fast rule, houses generally provide more space than condos. Depending on your needs and how you plan to use the property, smaller or larger may be the better fit.
Ask yourself:
How many bedrooms and bathrooms do we need?
What kind of parking situation will work for us?
Will we need dedicated guest space or a home office?
Is outdoor entertaining space a priority for us?
Will storage space be an issue in a smaller home?
What level of maintenance am I comfortable with?
One of the major perks of living in a condo is the low maintenance lifestyle it provides. Most condo communities manage common areas, take care of exterior elements of the home like the roof, hire a company to cover landscaping, and handle miscellaneous maintenance around the neighborhood.
Living in a condo usually means limited, if any, yard work. We find that this is particularly appealing for retirees, but anyone might be a fan of this benefit. It is also particularly useful if you are planning to own a vacation home where you are not always present.
On the other hand, living in a house on the lake can offer a unique opportunity to have a spacious yard with a garden, entertaining space, a she shed, or whatever else you are dreaming of. You might be able to have your own private dock and lake access, too, in exchange for a higher level of maintenance.
Do I want to live on the water?
Decide how close you want to live to the water. There are a few condo communities on a lake, but many are set a bit away from the water, requiring a walk or drive to access it. On the other hand, you will find many homes set on the lake, but these may stretch your budget a bit too far. If living on the lake is important to you, but many of the homes you like are outside of budget, consider a lakefront condo instead to expand the options within your price range.
What amenities are important to me?
The wide variety of neighborhoods in the area provide a diversity of amenities. You will find some neighborhoods without any HOA or community amenities, while others feature clubhouses, private golf courses, and more. Consider what kind of private community amenities you would like to have access to, and let us know what you're looking for. We can help you decide which community will be the right fit for the lifestyle you are dreaming of in Texas Hill Country.
Ready to begin your search? We are always here to help, so reach out any time!