Small Bathroom Design Ideas
Posted by RE/MAX HORSESHOE BAY Resort Sales Co. on Tuesday, August 2, 2022 at 7:12 PM
By RE/MAX HORSESHOE BAY Resort Sales Co. / August 2, 2022
Comment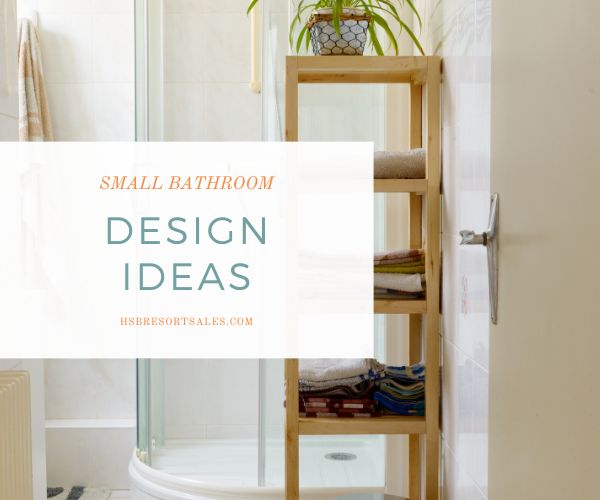 Small spaces are some of the most challenging to design. If your home has a small bathroom, some of the challenges you might face are storage, functionality, and making the space visually appealing.
Whether it is a guest bathroom that gets infrequent use or one of the bathrooms that is used on a daily basis, you will want to check out our list of small bathroom design ideas to make the most of the space you have.
Glass Showers
When you cannot increase the actual size of a room, optical illusions are a great alternative. One way to implement this idea in a small bathroom is with a frameless glass shower.
Shower curtains, frosted glass, or framed shower doors cause the room to appear even smaller than it is, while a frameless glass shower adds visual depth to the room that makes it feel more spacious and open. This is also a great way to add design impact, by showcasing the fixtures, tiling, or other details in the shower as a part of the overall design.
Maximize Natural Light
Lighting is totally essential in a small bathroom. Maximize the natural light in the space by opting for sheer window coverings that allow light in while maintaining privacy.
Another way to maximize natural light is by adding a solar tube. For a fraction of the cost of installing a skylight, a solar tube can infuse abundant natural light into your small bathroom by funneling sunshine from between the rafters through a reflective tube.
Choose Light and Airy Colors
The color palette you select for your small bathroom design matters. Dark colors can make the space feel dramatic and cozy, but also may make it feel smaller.
Using light and airy colors is a great way to make the room feel spacious. You can add contrast and drama through different textures instead of bright or dark colors.
Some simple ways to add texture in a light color pallete are:
Woven baskets
Embroidered or tiered curtains
Mosaic soap dispensers, picture frames, or other accents
Dimensional towels
Add Lighting Fixtures
A dark bathroom will feel smaller than it is. In many cases, adding additional light fixtures will instantly make the small bathroom feel more spacious.
Consider adding a chandelier, wall sconces, or lighting over the shower and tub to add brightness to the room.
Statement Pieces
When you are working with a small space, infusing your own personality into the design can be challenging. You may not have the room to add a large art piece or decorative furniture, but that doesn't mean you can't utilize statement pieces.
Consider the elements in your layout that already exist and how you can swap them out for a statement piece. For example, your simple frameless vanity mirror could be exchanged for something with a unique shape or frame. Without taking up any additional space, the design will go from basic to beautiful.
Creative Storage Solutions
The classic challenge of a small bathroom is storage. Even if the bathroom is a guest space that does not need to store lots of personal products, you will likely struggle to contain the items you do want to store, like additional towels, toilet paper, and cotton balls.
To help, think creatively. If you have limited storage in the vanity, look at the walls. Is there any wall space above the toilet or next to the shower that has space for creative solutions like a mounted basket for extra toilet paper? Maybe you can mount a wine bottle holder and roll your towels to be stored in it. Corner storage shelving or baskets can also be a creative way to maximize storage space.
Remember, even if you have a tiny space to work with, you can still love your home. Looking for that perfect home? Contact us any time! We would love to help welcome you home in Texas Hill Country.