Take Advantage of Off-Season Benefits to Buy a Home in Texas Hill Country
Posted by RE/MAX HORSESHOE BAY Resort Sales Co. on Saturday, November 18, 2023 at 2:35:38 PM
By RE/MAX HORSESHOE BAY Resort Sales Co. / November 18, 2023
Comment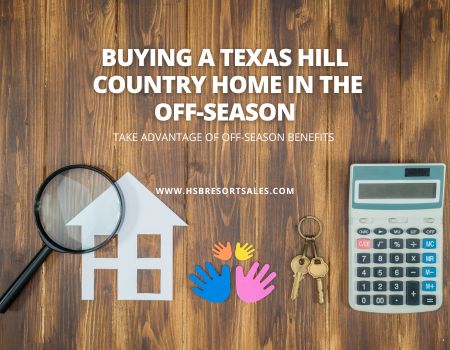 The most popular time to buy a house in Texas Hill Country is undoubtedly the spring and summer months. It's when the most buyers are in the market, and it's easy to understand why. Travel during those times are often easier, and it's usually a more convenient time to move.
However, there are also some distinct advantages to buying a home in the off season. Contact us any time to learn more about buying a home in Texas Hill Country before spring, and keep reading to understand why you might want to take advantage of this timing.
Reduced Competition
One of the primary advantages of buying real estate in Texas Hill Country during the off-season is the reduced competition. In peak seasons, the market can be saturated with prospective buyers, leading to bidding wars and increased property prices. In the off-season, there are fewer buyers vying for the same properties, giving you a better chance to negotiate favorable terms and secure a property at a more reasonable price.
Seller Motivation
Sellers in the off-season may be more motivated to close deals. Whether they need to sell quickly for personal reasons or are looking to offload a property that has been on the market for a while, you may find sellers more willing to negotiate on price, closing costs, or other terms. This increased flexibility can result in a better overall deal for you as the buyer.
The reduced demand during the off-season can shift negotiation dynamics in favor of the buyer. Sellers may be more open to compromises, such as covering closing costs, making necessary repairs, or including additional amenities in the sale. Buyers who enter negotiations well-prepared and informed can leverage these opportunities to secure a more favorable deal.
Professional Availability
Real estate professionals like inspectors, appraisers, and mortgage lenders often experience a less hectic schedule during the off-season. This means you may have easier access to these essential services, allowing for a smoother and more efficient transaction process. Professionals can dedicate more time to your needs, providing valuable insights and guidance.
Accurate Property Assessments
During the off-season, you have the advantage of assessing the property under various weather conditions. Texas Hill Country, with its diverse terrain, may have aspects that are more apparent during specific seasons. Viewing the property in the off-season allows you to identify any potential issues related to drainage, landscaping, or structural integrity that may not be as evident during the peak season.
Access to Local Amenities
Exploring the local amenities and attractions is a crucial aspect of choosing the right property. The off-season allows you to experience these aspects with fewer crowds, providing a more authentic sense of the community. You can visit local restaurants, shops, and recreational areas without the hustle and bustle, gaining a clearer understanding of the lifestyle the area offers.
We can help you identify the right location for you in Texas Hill Country, and you can take your time exploring the best restaurants in the area, local breweries you might like, or even extending your house hunting trip to explore local wineries and hiking trails. With fewer crowds, it will be easier to thoroughly explore and choose your ideal destination.
Ready to start looking for your ideal property for sale in Texas Hill Country? Contact us any time.