Upgrade Your Texas Hill Country Home in 2023 with Smart Home Features
Posted by RE/MAX HORSESHOE BAY Resort Sales Co. on Monday, June 5, 2023 at 3:25:02 PM
By RE/MAX HORSESHOE BAY Resort Sales Co. / June 5, 2023
Comment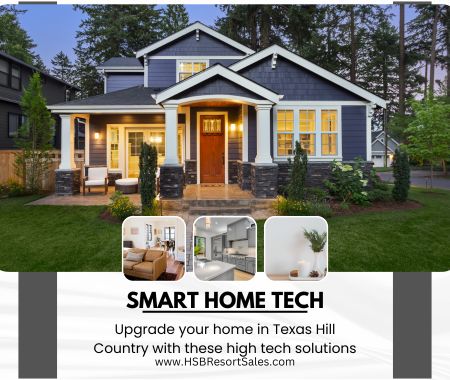 Looking for ways to upgrade your house in the Texas Hill Country, while making your life easier? Consider these smart home upgrades that can add value to your home and functionality to your life.
To find houses for sale in the Texas Hill Country that will meet your unique needs, contact us any time. We can help you identify the neighborhood that is the best fit for you and walk you through every step of the home buying process.
To make the most of your home in the Texas Hill Country, consider adding some of these smart home features. Nearly all of them can be programmed to be controlled through apps on your personal devices, voice control, and/or control panels installed into the home.
Security
One of the most popular uses of smart home technology is security systems. These tools have come a long way since the original home security systems, and can offer a range of features depending on your needs and budget, including:
Video surveillance, with a live feed to your personal device as well as recording options for pressing charges, if necessary
Window and door sensors to alert you when any are opened, shattered, or left unlocked
Automatic locks
Keyless entry with fingerprint or passcode verification
Doorbells with videos, speakers, and microphones so you can see who is at the door and speak with them from anywhere
These security features can provide peace of mind and lower your insurance costs, whether for your personal vacation home, primary residence, or short-term vacation rental property.
Window Coverings
Smart window coverings can be opened or closed from a control panel in your phone or wall at any time or set to automatically open or close at certain times of day. This is particularly convenient for windows that are difficult to reach or in rooms with many windows to cover.
A favorite benefit of smart window shades is the way they can be used to start your day. If you like to sleep with blackout shades, you can even set them to open at a certain time to gently wake you with sunlight instead of a traditional alarm.
Appliances
The list of smart appliances for your home is already long and is always growing. Nearly every home appliance is now available with high tech features to make your life easier or add a bit of luxury to your everyday experience at home.
Some of the most popular smart home appliances include:
Refrigerators that can tell you what you have at home, by checking from the market on your phone.
Turn on your oven on the way home to preheat and be ready when you arrive.
Laundry that can be started or flipped whether you are home or not. Delay the start of a wash cycle to get the timing right and avoid musty clothes.
Energy saving appliances that sense how much water is needed for the job.
Garage doors that can be closed or opened from anywhere via your phone.
Lighting
Lighting is one of the most underrated features in a home. While you may not notice the impact it makes on your home environment, lighting that provides an ideal blend between artificial and natural sources and can be customized for the occasion will make your home significantly more comfortable. When you add smart home technology to the mix, it gets even better.
Just imagine being able to customize the lighting in your home without walking around to turn lights on or off. Smart lighting can be controlled from a panel on the wall or your phone, dimming or even changing color to suit the mood. You can also check to see that the lights were turned off when you left the house by checking your phone.
Thermostat
A smart thermostat can be controlled remotely, so that you can turn on the heat or air on your way home from work or a trip to avoid using energy to keep the temperature constant even when you are not home. This comes in particularly handy during the hot Texas summer months.
These thermostats will also learn your habits and preferences to keep the home at your preferred temperature while maximizing energy savings, saving your money and helping you be kinder to the planet.
If you would like to learn more about owning a home in Texas Hill Country, contact us any time to find out how we can help.