What Not to Do for the Best Home Appraisal
Posted by RE/MAX HORSESHOE BAY Resort Sales Co. on Tuesday, August 16, 2022 at 1:52 PM
By RE/MAX HORSESHOE BAY Resort Sales Co. / August 16, 2022
Comment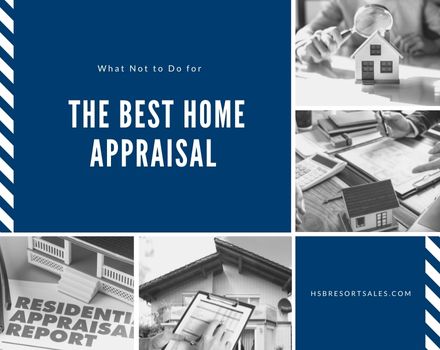 There are a few common mistakes people make as they prepare for a home appraisal; check out these tips to make sure you avoid them.
What is a Home Appraisal?
A home appraisal is the process of a professional real estate appraiser reviewing the details of your home and determining its value. This may take place when a house is being sold or during the refinancing process, allowing the lender in either case to secure a valuation of the property.
The appraisal will usually take between 30 and 60 minutes, and the appraiser will take photos to provide visual evidence to lenders and buyers. The better your home looks for the appraiser, the better your results.
What to Avoid before a Home Appraisal
There are a few common ways people miss out on getting the best possible appraisal for their home.
Poor Curb Appeal
Curb appeal matters for more than just that first impression on your house's listing; it's also going to make an impact on the home appraisal. Trim your trees and shrubs, add a fresh coat of paint, and update damaged items such as mailboxes, garage doors, and dead flower boxes.
Staging the front porch with patio furniture and potted plants is a nice touch, too!
Outdated Bathrooms and Kitchens
Kitchens and bathrooms are some of the most costly renovations, but they are also known for offering a great ROI. Nothing reveals the age of a home like an outdated kitchen or bathroom, so consider a renovation or complete remodel before the appraisal.
If a total remodel isn't in the budget, or there simply is not enough time, consider a modified renovation by repainting, updating hardware and lighting, and replacing flooring.
Damaged Interior
Any signs of damage should be repaired before the appraisal. This includes dents in the wall, broken blinds, window screens with rips or holes, and stained carpets.
A deep clean will also go a long way. A bright, fresh home will appear so much more favorably on camera than a dark and dingy one.
Unfinished Basement
If your home has a basement that is unfinished, that means massive potential for a significantly higher appraisal. When you take your basement from unfinished to finished, you add square footage to the home on the appraisal.
An unfinished basement will be noted on the appraisal, but will not count as living space. By adding flooring, drywall, and staging furniture, you will reap major rewards. This is one of the easiest ways to massively increase your home's value.
Old Appliances and Systems
Large appliances and the major systems in your home like HVAC, plumbing, and electrical can be some of the most expensive to replace, but they also have an excellent ROI.
If any of the appliances or systems in your home are outdated, consider investing in their replacement before the appraisal takes place (ideally before listing the house).
Lack of Outdoor Living Space
Installing a deck or a patio in the front or backyard is a great way to add value to your home before an appraisal. If your outdoor space is lacking in living area or space to entertain, consider how you can create one or improve it.
A few simple ways to do this:
Add a patio cover
Expanding a small deck or patio
Refinishing and sealing your deck
Repair cracks in concrete
To learn more about having the best possible home selling experience, get in touch with us any time.