What You Need to Know Before Buying a Lake House
Posted by RE/MAX HORSESHOE BAY Resort Sales Co. on Friday, October 21, 2022 at 6:54:07 PM
By RE/MAX HORSESHOE BAY Resort Sales Co. / October 21, 2022
Comment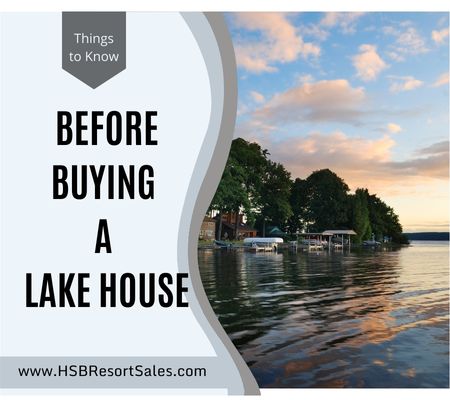 Are you dreaming of owning your own lake house in Texas Hill Country? Watching the sun come up over a glassy lake, teaching kids and grandkids how to water ski, fishing off your own private deck; not only is owning a lake home a great financial investment, but also an investment in your quality of life for years to come.
We have helped many people find their ideal lake house, and would love to help you, too. Contact us to learn more! In the meantime, check out these things you need to know before buying a lake house.
What Does a Lake House Really Cost
The first thing on your mind is likely the investment you need to be prepared to make. While the exact dollar amounts will vary greatly depending on the specific property you purchase, there are a few unique factors you need to take into account when buying a lake house.
Cost of Purchasing the Property
As you consider what your budget might be for a lake house, keep in mind that financing for a vacation home or second home might be much different than it was for your current home. Talk with a lender to find out what your down payment will be.
Also keep in mind that some Texas Hill Country properties have HOA fees, while others do not. In addition, a lake house that is on waterfront property with lake access will come at a premium, while a house that is near enough to walk to the lake but is not directly on the water may give you more wiggle room in the budget. Any renovations, furnishing, and repairs you will need to fund should also be taken into account.
Cost of Maintaining and Insuring the Property
Consider the costs of insurance, utilities, and maintenance for the lake house. The energy efficiency of the home will make a big difference, especially during hot Texas summers. You'll also want to get some insurance quotes, which might be different from what you are used to depending on the proximity of the house the water and any flood risks the property presents.
General maintenance for a lake house may also be more than you are used to, as these homes have a tendency to suffer a bit more wear and tear.
Cost for the Fun Stuff
When you have a lake house, there are likely a few things you'll want to buy. Whether it's a big purchase like a new boat, or a few smaller things like paddle boards and a backyard fire pit, make sure to keep your fun purchases in mind as you set the budget.
Non-Financial "Costs"
Don't forget to account for the "cost" of the time and effort that goes into maintaining your lake home and getting it set up, furnished, and stocked. The effort is well worth it, but it's best to be mentally prepared for the work that goes into establishing a lake house your whole family will love.
Questions to Ask Before Buying
As with all real estate transactions, it is best to have as much information as possible before buying a lake house. Working with experienced real estate agents and hiring a reputable home inspector are two of the best ways to ensure that you have a good lake house buying experience.
A few questions to ask include:
Does the property require flood insurance?
Does the property include any waterfront rights?
What is the water quality in the lake?
Is there an HOA or other governing body in the community?
Is there cell phone service and high speed internet in the area?
How close is the nearest gas station and grocery store?
Is the property on a septic system or city sewer?
Want to learn more about buying a lake house or begin searching for your ideal property? We would love to help. Contact us any time to get started.