What You Should Know about a Post-Settlement Occupancy Agreement
Posted by RE/MAX HORSESHOE BAY Resort Sales Co. on Tuesday, January 31, 2023 at 6:19:17 PM
By RE/MAX HORSESHOE BAY Resort Sales Co. / January 31, 2023
Comment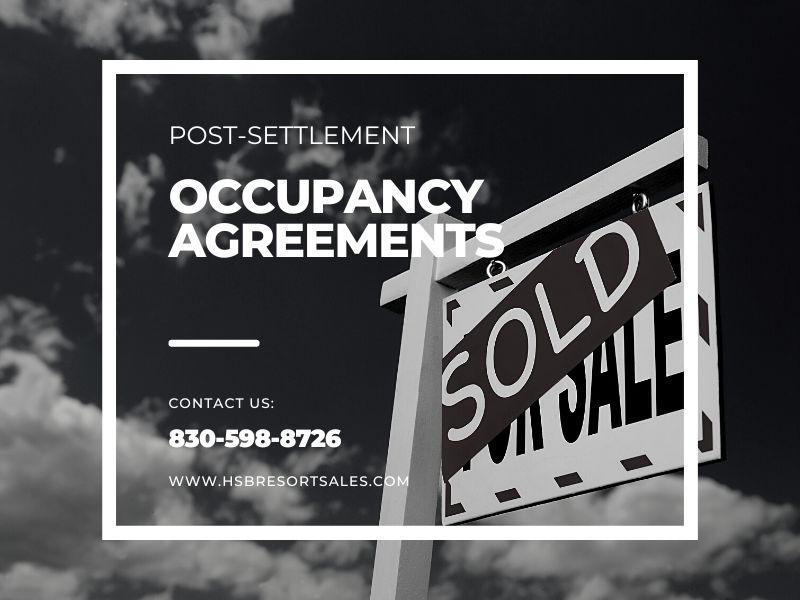 When you find a home you are excited to buy, but the sellers are requesting a post-settlement occupancy agreement, what should you do? We've outlined what this condition in the contract means and how to determine if it's going to work for you below.
To find out more about homes for sale in Texas Hill Country or finding your ideal property near Horseshoe Bay, let us know how we can help by contacting us any time!
What is a post-settlement occupancy agreement?
In some real estate transactions, the seller will request an agreement with the buyer that they can remain in the home after closing, occupying the home and moving out at an agreed upon date after the transaction is complete. This post-settlement occupancy agreement between buyer and seller outlines the amount of time the sellers can remain in the home (generally under 60 days) and the occupancy charge. The cost is generally equal to the PITI (mortgage principal, interest, taxes and, insurance) for the time of the occupancy agreement and is deducted from the seller's proceeds at closing.
Why would a post-settlement occupancy agreement benefit the buyer and seller?
There are many reasons a seller might request a post-settlement occupancy agreement, including:
The house sold more quickly than expected and they would like to avoid finding temporary housing
The sellers are experience delays with the home they are renovating and moving into
The deal for the home the sellers were planning to buy and move into fell through
In these and other scenarios, a seller might benefit from continuing to live in their home after selling it for a short period of time.
Buyers might also benefit from a post-settlement occupancy agreement, in situations where they do not need to or want to move in immediately. If your seller is willing to cover the PITI for the property for a month or two, this may allow you the time to prepare for a move, get renovation plans in order, or sell your current home without paying two mortgages simultaneously.
What is the difference between a post-settlement occupancy agreement and a lease?
While in effect a post-settlement occupancy agreement looks a lot like renting a home, the relationship between buyer and seller in this scenario is very different from landlord and tenant.
A seller is responsible to hand the home over in the condition it was in at closing, unlike a renter who may lose their deposit but is not ultimately responsible for the home. A security deposit from the seller will be held by a third party without interest, only released if the seller meets the conditions listed in the agreement.
The buyer is allowed to enter the property during the post-settlement occupancy period, with an expectation that they will be respectful of the sellers during this time by only making "reasonable requests." For example, entering the home to measure or allow contractors to get quotes for a renovation during business hours would be considered a reasonable request, while asking to enter the home late at night to show it to friends would not.
In some cases, there may be a stressful conflict between sellers, who have a right to privacy, and buyers, who have a right to their property. While this is generally something that can be worked out, keep in mind that this is a challenge you may face in this scenario.
The key to making sure a post-settlement occupancy agreement will work for you is carefully reviewing the fine print with your trusted team of real estate professionals. To learn more about finding the ideal property for you in Texas Hill Country, contact us any time.