Why You Should Retire in Texas Hill Country
Posted by RE/MAX HORSESHOE BAY Resort Sales Co. on Friday, September 16, 2022 at 9:18 PM
By RE/MAX HORSESHOE BAY Resort Sales Co. / September 16, 2022
Comment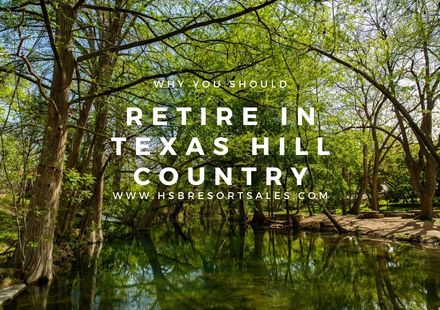 As you look ahead to retirement, choosing the right location is one of the most significant factors. Texas Hill Country is one of the best places in the country to retire. Keep reading to find out why!
Breathtaking Scenery
Texas Hill Country is one of the most scenic parts of the state, featuring beautiful rolling hills, stream fed rivers, and picturesque vineyards. In the springtime from March to April, Texas Hill Country residents enjoy one of the most breathtaking displays of the state flower, the bluebonnet.
Whatever you like to do outside, you will enjoy it in a beautiful setting in Texas Hill Country. Beautiful lakes and streams are perfect for fishing, swimming, or taking the boat out for a peaceful day on the water. Hiking and horseback riding trails are easy to find all throughout the area. If you have yet to visit Texas Hill Country, you will be amazed at the natural beauty around every corner.
An Amazing Restaurant Scene
Many people dream of enjoying their retirement at a variety of restaurants, so choosing a retirement location requires a thriving foodie scene. Texas Hill Country fits the bill. Of course you will find plenty of Tex-Mex and barbecue, good enough to rival any in the world, but that's not all.
You'll also find a variety of restaurants featuring cuisine from around the world, ranging from casual places to stop after a day on the lake to upscale restaurants fit for a special anniversary.
Impressive Wine Tasting
Did you know Texas Wine Country is filled with beautiful vineyards, and is the second largest wine country region in the nation. If your retirement plans include wine tasting in a variety of gorgeous settings, you will love living in Texas Hill country, where there is an extensive list of vineyards near enough to enjoy with a quick trip.
From small, family-owned vineyards to sprawling estates fit for a glamorous wedding, you will be amazed at the blend of quality wine tasting and southern hospitality. Though the list of vineyards in the area is long, a few of our favorites include:
Plenty to Do
However you plan to spend your retirement years, there will be a way to enjoy it in Texas Hill Country. Living among the many beautiful lakes allows the opportunity to enjoy unlimited fishing, boating, swimming, and just enjoying the scenic setting. In addition to Inks Lake, Lake LBJ, Lake Marble Falls, and Lake Buchanan, enjoy the swimming holes and rivers around the area.
Pedernales Falls State Park surrounds the turbulent, powerful, and beautiful Pedernales River and features Hamilton Pool Nature Preserve. Those who are up for a challenging hike can access the natural swimming pool, while others can take a horseback ride throughout the park to explore the scenery.
There's more than just the natural beauty to enjoy, too. You will find beautiful golf courses, spas, shopping, and more all within the area. However you like to spend your time, you will be able to in Texas Hill country.
Wonderful Communities
There is an abundance of communities in Texas Hill Country that are perfectly suited to retirees. One of our favorites is Horseshoe Bay Resort, where residents, who are members of the Resort, enjoy access to amenities that make retirement a dream. Set along the beautiful shores of Lake LBJ, this community has so much to offer retirees.
To learn more about finding your ideal property for retirement in Texas Hill Country, contact us any time!