Will an Eat-In Kitchen Add to My Home's Resale Value?
Posted by RE/MAX HORSESHOE BAY Resort Sales Co. on Wednesday, April 26, 2023 at 1:47:47 PM
By RE/MAX HORSESHOE BAY Resort Sales Co. / April 26, 2023
Comment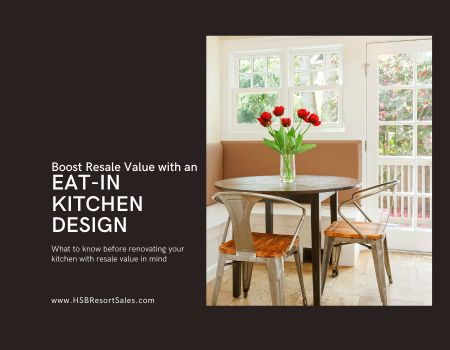 Renovating your kitchen is one of the home improvement projects known for having the best ROI, mostly because the majority of buyers are looking for updated kitchens. If you are planning to renovate your kitchen before selling it, whether this year or sometime in the future, consider how an eat-in kitchen design will affect resale value.
If you are interested in learning more about selling your home in Texas Hill Country, we can help you come up with a strategy for success in your specific market. Contact us any time to learn more about how much your home is worth and how you can prepare it for a successful sale.
What is an eat-in kitchen?
The definition of an eat-in kitchen includes a range of kitchen layouts and styles, as long as there is somewhere to sit down and eat. This might look like a bar area with seating, a built in dining booth, or a breakfast nook with table and chairs.
Depending on the size of your home and your kitchen, you may count just a couple of barstools at the kitchen counter as an eat-in kitchen. Buyers looking for a larger home generally consider an eat-in kitchen to be one that has space for most of the family to sit down and enjoy a meal together.
What are the benefits of an eat-in kitchen?
An eat-in kitchen is desirable because it provides addition space for dining, entertaining, homework, food prep, and more. It increase the functionality of the home by allowing you to have both a formal dining space and a more causal and multi-functional eating area.
Do eat-in kitchens increase resale value?
While it's hard to say exactly how much more your home will sell for with an eat-in kitchen, real estate experts do agree that a kitchen with a dining space is generally more desirable to buyers. If a buyer is choosing between two similar homes, one with a small kitchen and the other with a spacious layout that includes a dining area, the eat-in kitchen is likely to win out.
Keep These Things in Mind
As you design a new kitchen with resale value in mind, here are some other things to consider:
Choose timeless design element and colors for the major components of the kitchen. This will allow your home to remain appealing for years to come, avoiding the need to renovate again before selling if it's a few years down the road. Even if you plan to sell this year, a trendy kitchen renovation is likely not in your best interest. Bold color choices or design trends can be incorporated in features that can be easily changed out, like towels, rugs, hardware, dishes, and other decorative elements. Stick to timeless designs for countertops, cabinetry, flooring, and appliances.
If you want to add upgraded kitchen features, remember that many of them will not come with a major ROI. High end elements like warming drawers or specialized appliances can be a fun addition to your kitchen, but likely won't end up drawing a higher purchase price.
When in doubt, it always makes sense to talk with a real estate agent that is a local expert if you are hoping to maximize your resale potential with your kitchen renovation.
Ready to learn more about selling your home? We are here to help. Contact us any time.