Golf Course Condos and Townhomes for Sale in Horseshoe Bay Texas
Search all Golf Course Condos and Townhomes for Sale in Horseshoe Bay Texas - golf course condos for sale and townhomes on the golf course in Horseshoe Bay TX.
While Horseshoe Bay is known for its fishing, boating, and camping amenities, it is also an ideal location for avid golfers. If you have dreamt of retiring in a luxury golf course community, consider a condo or townhome in Texas Hill Country, where high quality golf courses are abundant and luxury real estate is affordable.
Golf Course Condos & Townhomes
November 30, 2023
Living on a Golf Course Around Horseshoe Bay
As with any living environment, living on a golf course has pros and cons. As you determine whether this setting is right for your household, weigh the benefits and drawbacks by keeping these factors in mind: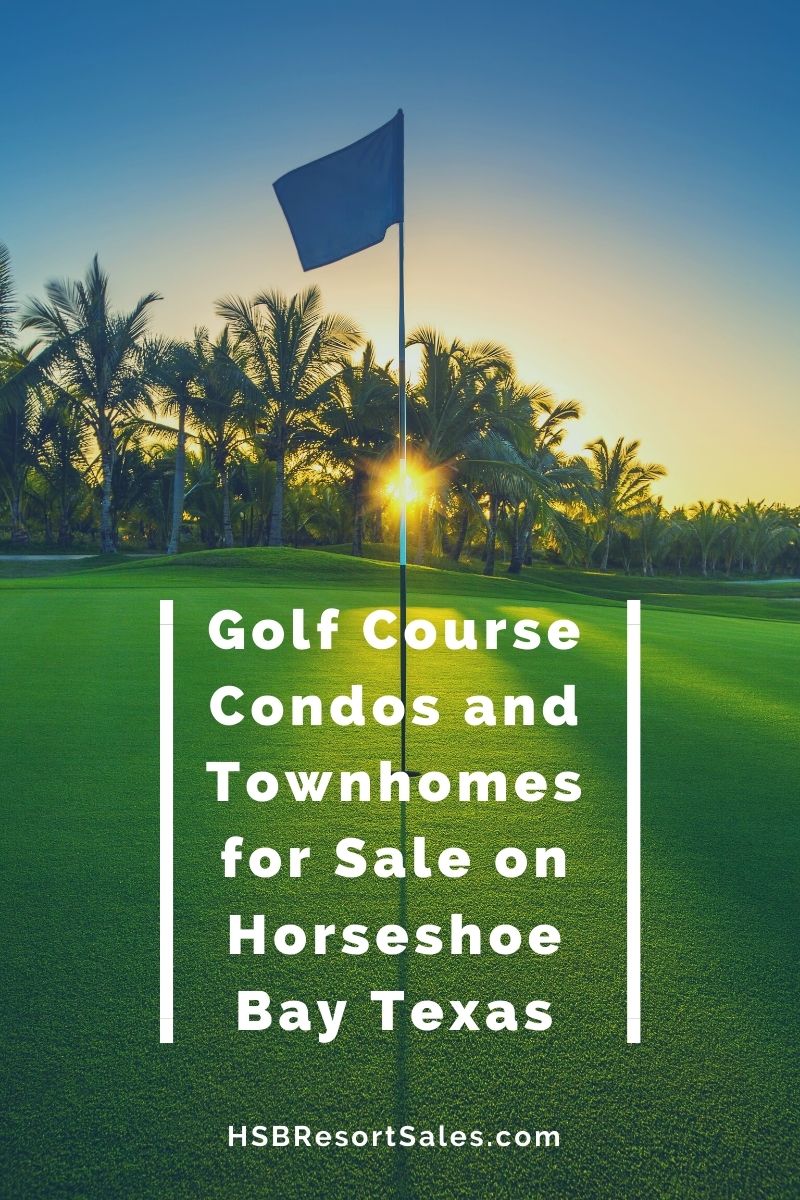 Views: With a home that backs up to a golf course, you will enjoy beautiful views of lush green fairways, which you can enjoy without any responsibility for upkeep. You may also be able to observe golfers from your windows or backyard. Residents of golf course communities benefit from backing up to wide open space rather than a neighbor.
Amenities: Golf course communities in Horseshoe Bay offer extensive amenities to residents, including more than just golf facilities. Beyond the course, driving range, and pro shop, you will have access to amenities like pools, restaurants, and fitness facilities.
Privacy: Depending on the location of your home, you may not have the privacy you prefer in your backyard. Consider whether you will be bothered by the noise and traffic that close proximity to the golf course will contribute.
Golf balls: An obvious side effect of living on a golf course is the potential for errant balls to end up on your property. For many, this is a small price to pay in comparison to the benefits, but if you have small children, pets, or a delicate garden you may want to consider a different setting.
Benefits of Condos and Townhomes
If you are considering a transition from a single-family home to a condo or townhome, there are some benefits to be aware of. The lifestyle residents of condos and townhomes enjoy is supported by the low-maintenance nature of this style of home.
Many golf course condos and townhomes in Horseshoe Bay features small yards to support gardens or space for a small pet, but these yards are generally low maintenance. In many cases, the HOA will handle landscaping for you, freeing up your time to do more of the things you enjoy.
Golf Courses in Horseshoe Bay
Horseshoe Bay Resort is a premier Texas Hill Country resort with four golf courses as well as abundant amenities, including:
Private Marina
Jungle Kids Club
Special Events
Three private pools
Tennis and pickle ball courts
Sunset cruises
State of the art fitness center
Birds of the Bay interactive family show
Of course, the resort also features golf facilities:
Whitewater Putting Course
Designed to play like a full competitive course, Horseshoe Bay offers a par 72, 18 hole putting course featuring a scenic landscape of waterfalls, rose gardens, exotic birds and a trail.
Summit Rock Golf Course
Summit Rock Golf Course is a Jack Nicklaus Signature Course that is exclusively available for members. The Par 72 course showcases stunning Texas scenery and is known as some of the Golden Bear's best work.
Slick Rock Golf Course
Slick Rock Golf Course was opened in 1972, designed by the legendary Robert Trent Jones, Sr., and has been acknowledged on many "best of" lists. After a complete renovation in 2016, this classic, award-winning course is one you won't want to miss, with brand new greens and bunkers, the installation of new green collars, and an upgrade of the irrigation system.
Ram Rock Golf Course
Known as "The Challenger" for its 58 deep bunkers, 10 water hazards and natural dry creeks surrounding its bentgrass greens and Bermuda fairways, Ram Rock Golf Course is another Robert Trent Jones, Sr. design. The course features narrow fairways, dramatic elevation changes, and a demanding island green par 3 hole.
Apple Rock Golf Course
Apple Rock Golf Course is a Robert Trent Jones, Sr. Championship Course that was renovated in 2019. The course has hosted the Texas State Open, USGA Qualifying events and other regional professional tournaments.
Condos and Townhomes For Sale in Horseshoe Bay
The Horseshoe Bay market includes a variety of luxury condos and townhomes. You can expect to find a spacious, updated property beginning in the mid $300,000s, though prices will range significantly based on square footage, design finishes, and waterfront properties or views. There are some communities with large collections of units, and others with a small collection of 4 to 6 units. Consider whether you prefer a private, quiet community or a more social environment to help narrow down the setting that will best suit your lifestyle.
To find out more about buying a condo or townhome in Horseshoe Bay, contact us any time. Our team of friendly and experienced professionals would love to help welcome you home in Texas Hill Country. As always, we are your Horseshoe Bay real estate experts
Contact Your Horseshoe Bay Agent